<!- sidebar-file='/sites/www.seabrightnj.org/web/sbnj/_zumu_sidebar.html' -->
Municipal Office Hours
Monday through Friday
8:30am - 4:30pm
<!- box:box1 -->
Departments
» Borough Directory
» Administrator
» Assessor
» Beach
» Board of Health
» Building Department
» Council & Committees
» Emergency Management
» EMS
» Fire Department
» Library
» Municipal Court
» Unified Planning Board
» Police Department
» Public Works
» Recreation Department
» Sewer Utility Department
» Tax Department
<!- box:box1 -->
Community
» Rebuilding Our Public Facilities
» Streetscape Project
» Flooding Information and Resources
» Services - Garbage, Utilities, Alerts, and more
» Schools
» Sea Breeze Newsletter
» Sandy Recovery
» Community Information
» Helpful Links
---
Monmouth County Hurricane Evacuation Zones
Library
Everyone welcome!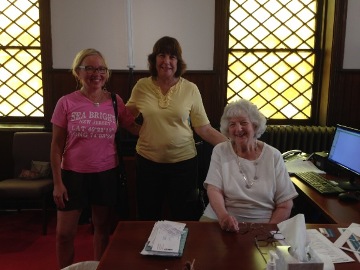 Welcome to the Sea Bright Library, a small, friendly library which welcomes residents as well as travelers to its facilities. The J.W. Ross Cultural Arts Center/Library is temporarily located at the First United Methodist Church, 1104 Ocean Avenue. We offer a variety of services: faxing, copying, computer access, artists' exhibits, as well as the most recent bestsellers and DVDs.
Library Director: Jane Farmer
Email: jfarmer@seabrightnj.org
Telephone : 732-383-8092
Sea Bright Library Hours
Monday - 10:00am - 5:00pm
Tuesday - 10:00am - 5:00pm
Wednesday - 10:00am - 5:00pm
Thursday - 10:00am - 5:00pm
Friday - 10:00am - 5:00pm
Saturday - 9:00am - 12:00 noon
*Children's librarian available every Monday, 1:00pm - 4:45pm,
to read to the children and make crafts.
*Sea Bright Library Book Club meets every second Wednesday of each month at 2:00pm.
*Come in and join us for an enriching and enjoyable time in our beautiful location!